" A Negotiator can be his own best friend, or his own worst enemy. " Daniel Rutois
Biography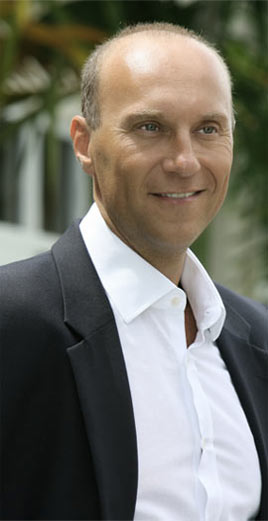 For over a decade, Daniel Rutois has been a highly successful entrepreneur and Hispanic business owner, having trained hundreds of professionals and dozens of corporate business teams in the areas of business, and specifically sales and negotiations. He has been embraced by Hispanics, both in the US and Latin America, and applauded for his successful communications, public speaking and development seminars.
He has been showcased across different media. His weekly articles and interviews on print, radio and television have made a positive impact on thousands of individuals, who have relied on his information and advice in order to meet their personal and professional goals; strengthen their self-esteem; learn and/or improve their negotiation skills; and/or improve their financial position. In short, he has influenced thousands to reinvent themselves, or even to be "reborn," as he often hears from his public.
Dany is living proof that persistence, coupled with a positive attitude is the best formula for success. In the early 1990's, Dany took a risk and decided to immigrate to New York. In search of the American dream, he then moved to South Florida, without any significant capital and not speaking English.  He decided to cease his law studies, and forego a degree in light of a different calling. At no point did he allow his lack of money, language or a university degree to undermine his confidence that he would quickly achieve success and financial independence. On the road to success, Dany was involved in different businesses and industries.
During this time, and as a result of his different experiences, he discovered his real calling and his inner strengths – teaching, training and developing others. He discovered the power of positive thinking and the huge impact the mind can have on one's destiny; he continued to be truly engaged and motivated by learning and reading, especially in the areas of finance and positive mind control.
Today, Dany Rutois is the owner and CEO of three different companies; moreover, he has leveraged his business success and significant experience to become a master Independent negotiator. His clients include political leaders, business owners, sales executives and other professionals. His results speak for themselves, with clients consistently achieving results and goals that they previously could not reach. In a single seminar, Dany is able to instill a new mental attitude to hundreds of attendees – facilitating them to transform their lives (personal and business).
Over the last year, Dany Rutois has begun to focus most of his training efforts around one of his true passions – the art of negotiations. Specifically, he develops and trains Hispanic corporate executives to become excellent negotiators; at work, in their own business, or in their every day personal lives. Although one might not realize this, we are engaged in negotiations many times every day. Improving one's negotiations skills can result in self improvement and a more fulfilling life, impacting all key areas (social, work, family, etc).  
For now, Daniel Rutois is focused on achieving his latest goal and personal mission – helping to drive a positive change in the lives of the 50 million Hispanics living in the USA, as well as the millions of Hispanics living across Latin America.  
He continues to be a change agent, facilitating others to improve one or more facets of their lives; improving their self-esteem, becoming more skilled negotiators, improving their finances, among others.